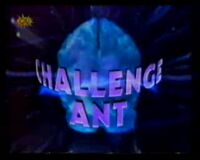 Challenge Ant was a long recurring competition on SMTV Live where a visitor challenges Ant to a general knowledge quiz.
Each week, a child would challenge Ant by asking him ten questions they had prepared (usually based on the week's showbiz news). For every one Ant did not answer correctly, the child won a prize, such as a DVD or video game.
At the end of the ten questions, the child would have the chance to gamble the prizes they had won for the 'star prize', which was usually a DVD player or games console. They then asked Ant a further question, called the "Killer Question", with an accompanying dramatic sound effect. If Ant answered incorrectly, the child and audience would chant, "you're thick, you're thick, you're thick, you're thick you are, you're thick, you're thick!" (to the tune of the opening lines of "Ole!" by The Bouncing Souls) and so on, and put a dunce cap on Ant's head. If, however, Ant answered the question correctly, the child would lose all their prizes, and Ant would be crowned "King of Common Knowledge", to the tune of Rockin' All Over The World, revelling in taunting the child, as he was crowned.
In later episodes, the child would get a 'consolation prize' of a handkerchief reading "I lost on Challenge Ant". Although most went forward with the Killer Question, only three challengers decided to go home with the prizes they had already won. Celebrity games were also played, and on Ant's birthday, Ant and Dec played together against their then girlfriends, Lisa Armstrong (who Ant married in 2006) and Clare Buckfield. The game was featured in the short-lived primetime show Slap Bang with Ant & Dec, (the forerunner to Saturday Night Takeaway) only this time played by elderly contestants.
A version involving Brian Dowling entitled Brian's Brain was introduced following Ant and Dec's departure.
In a memorable episode on Cat's last day, Cilla Black entered the studio at the part where Brian was supposed to enter, and announced that today they would be testing Cat's brain. Another memorable episode featured Brian's sisters as the contenders, while a third featured the late Jade Goody.
Possibly the most famous question was, "What do baby cows drink?" to which Brian answered "Milk", although the official answer was water. This question was repeated on the one-off edition of 15 to Fun.