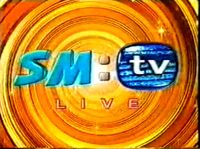 SM:tv Live (an abbreviation of Saturday Morning Television Live), also stylised as SMTV Live and in early promotional material SMTV://live, was a British Saturday morning children's television programme, broadcast on ITV between 29 August 1998 and 27 December 2003. It was part of ITV's Children's ITV output.
On the surface, the programme did not seem to stray away from the format of other Saturday morning output, featuring an audience of children, competitions and cartoons, though it constantly won in ratings battles with the BBC's Live & Kicking and became ITV's most successful children's programme since Tiswas.
The major success of SM:tv Live has been attributed in equal parts to Anthony McPartlin & Declan Donnelly's original presenting partnership with Cat Deeley, it's use of thinly-veiled comedic innuendo aimed at older viewers, and it's broadcast of the Japanese cartoon series Pokémon. At the height of its popularity, SM:tv Live regularly attracted 2.5 million viewers. Ant & Dec's company Gallowgate currently owns the rights to the show.
Presenters
Edit
Most famously, SM:tv was hosted by it's original presenters, Anthony McPartlin, Declan Donnelly and Cat Deeley, from it's inception in 1998 until 2001 (McPartlin and Donnelly) and 2002 (Deeley). Since their respective departures, the programme was hosted by a variety of other people - including Steps members Ian 'H' Watkins and Claire Richards, Big Brother winner Brian Dowling and magician Stephen Mulhern.
Production
Edit
Title Sequence
Edit
The programme's title sequence followed the journey of a series of cartoon characters, each rushing across a real-life home to be the first to turn on a television and, subsequently, SM:tv Live. It was accompanied by two theme songs: a synth-based tune, for the programme's first few months on air[1], and an upbeat, guitar-heavy theme that became most synonymous with the show.[2] This second tune was also used for SM:tv Gold.[3]
The SM:tv logo was characterised with a cartoon-styled 'SM,' accompanied by the letters 'tv' that were placed within a television set. Underneath, the word 'LIVE' was written in block capitals. Most famously, this text was placed on a spiralling background, of varying colours.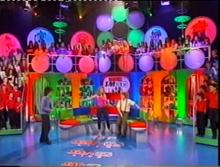 The programme featured two main set designs, the first of which, used in 1998, featured the trio sitting atop a large circular platform. Behind them was other elements of the CD:UK studio, of which the two programmes shared space. This was later changed so that the presenters would sit on the floor of the studio, surrounded by a crowd of young viewers, up high behind them.
The sets were created by Vivid Design Works,[4] who also worked on sister show CD:UK.[5]
Behind the Scenes
Edit
The programme's first producer was Ric Blaxhill, a former Top of the Pops producer who managed the show for it's first month on air.[6] He was replaced by Steve Pinhay, who also produced the BBC gameshows Pass the Buck and The Enemy Within.[7] From 1999, until the show's end in 2003, SM:tv Live was produced by David Staite.[8]
In 2000, ITV broadcast a documentary focusing on the art of presenting children's television, titled It Shouldn't Happen to a Children's Presenter.[9] The programme featured a segment on SM:tv, following the behind the scenes process of making an episode of the show. It is available to view on YouTube.[10]
Red Button Interactivity
Edit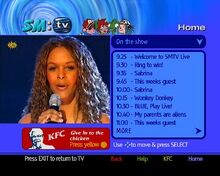 From February 16th 2001, the ITV Digital television service allowed SM:tv viewers to access information about the programme, through their interactive 'red button' service. By pressing the red button, viewers could see details about the day's guests, the running order of the show, information on the presenters (at the time Deeley and James Redmond) and the programme's contact details, as well as several arcade-style games of some of SM:tv's most popular competitions.[11]
Sketches
Edit
Features and Competitions
Edit
Programming
Edit
Supplementary Shows
Edit
SM:tv Gold
Edit
Home Media and Merchandise
Edit
According to Twitter user Farnie, an episode of SM:tv can be viewed at Dubai's Children's City museum.[12]
References
Edit
External Links
Edit