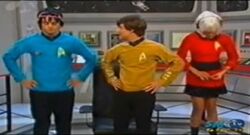 SMTV 2099 is a recurring Sketch which featured regularly on SMTV Live featuring Ant, Dec, Cat and the guest of the week. The segment was a parody of Star Trek.
A parody of Star Trek, and of science fiction as a whole, featuirng Dec as a Captain Kirk-type captain of a spaceship, Cat as an Uhura-esque communications officer (in a silvery wig), and Ant as a bizarre character that, upon pressing his badge, could transform from 'Interior Designer Mode' to 'Warrior Mode' and back (the only difference being in 'Warrior Mode', he wore a Geordi La Forge-type visor, though on many occasions he would actually forget to put the visor on when in Warrior Mode, and had to be reminded by someone else to do so).
An infamous gag repeated every week involved one of the characters (usually a female celebrity guest on the show) claiming to draw "a pair of orbits around twin planets" (or something similar) upon a transparent gridscreen, although it was obvious they were drawing breasts aligned to their body. Brian Dowling and Tess Daly later took part in a revised series of sketches entitled SMTV 2099: The Next Generation.