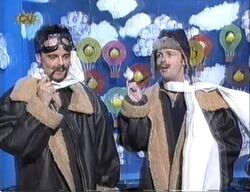 Splattoon was a popular game played on SMTV Live which was presented by ant and Dec, and featured the guest of the week.
Based on the title of Oliver Stone's film Platoon, the aim of the game was for a caller to direct a blindfolded celebrity to use a gun to 'splat' small model hot air balloons, filled with paint. For this game, Ant and Dec always dressed up as World War I fighter plane pilots, complete with fake moustaches and pipes and spoke with old-fashioned accents.
A running gag involved Ant and Dec not realising that Cat's character ('Private Deeley') was a woman in drag. After SM:TV started to air episodes of Men in Black: The Series, the game was given a cosmetic makeover, replacing the hot air balloons with aliens and renaming it "Men in Splat".
Another recurring theme in the game was that the answer to the multiple-choice question for entry to the game was always B. Answers to the questions often matched this theme too, by starting with the letter B.